Air Compressors and Refrigerated Dryers
Compressed air systems are our specialty. Why not include a compressor and dryer with your piping system?
Online ordering is not available for our air compressors. We feel it necessary to take the time and ask you about your application and size it appropriately. Call or email for info.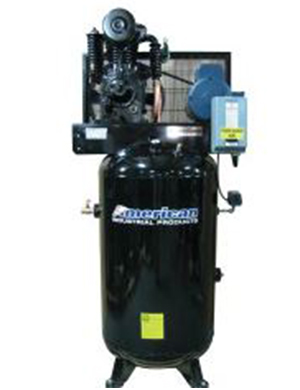 5HP 1PHASE MOTOR
80 GALLON VERTICAL
2 STAGE CAST IRON PUMP
20 CFM 175 PSI
MAG STARTER
740 PUMP RPM
2 CYLINDER
OUTLET SIZE 3/4 NPT
28 AMPS
32" X 40" X 78" 580 LBS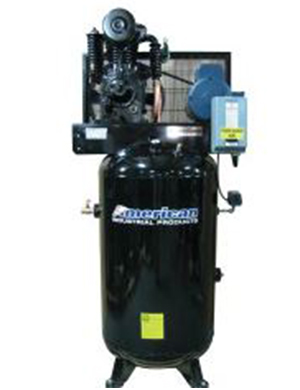 7.5HP 1PHASE MOTOR
80 GALLON VERTICAL
2 STAGE CAST IRON PUMP
26 CFM 175 PSI
MAG STARTER
740 PUMP RPM
2 CYLINDER
OUTLET SIZE 3/4 NPT
40 AMPS
32" X 40" X 78" 624 LBS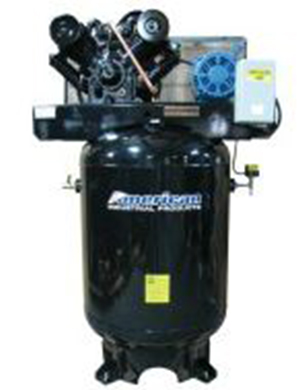 10HP 1PHASE MOTOR
120 GALLON VERTICAL
2 STAGE CAST IRON PUMP
40 CFM 175 PSI
MAG STARTER
760 PUMP RPM
4 CYLINDER
OUTLET SIZE 3/4 NPT
50 AMPS
40" X 45" X 78" 880 LBS
15 Hp
TUK15023E120H
$2999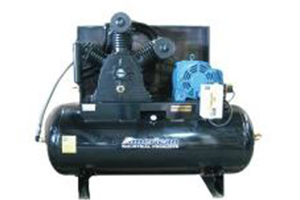 15HP 3PHASE MOTOR
120 GALLON HORIZONTAL
2 STAGE CAST IRON PUMP
60 CFM 175 PSI
MAG STARTER
760 PUMP RPM
3 CYLINDER
OUTLET SIZE 3/4 NPT
48 AMPS/230 V, 21 AMPS/460 V
36" X 81" X 63" HIGH 1208 LBS
2x5 Hp
2-CI521E120H
$2699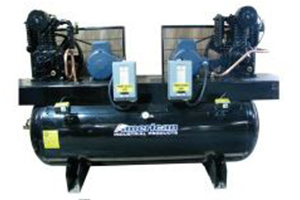 2- 5HP 1PHASE MOTORS
120 GALLON HORIZONTAL
2 STAGE CAST IRON PUMPS
44 CFM 175 PSI
MAG STARTERS
740 PUMP RPM
OUTLET SIZE 3/4 NPT
28 AMPS EACH MOTOR (2)
36" X 86" X 56" HIGH 1070 LBS
2x 7.5 Hp
2-CI7521E120H
$3199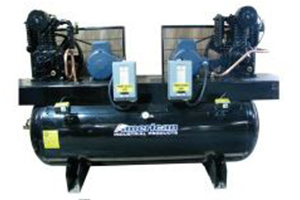 2- 7.5HP 1PHASE MOTORS
120 GALLON HORIZONTAL
2 STAGE CAST IRON PUMPS
52 CFM 175 PSI
MAG STARTERS
740 PUMP RPM
OUTLET SIZE 3/4 NPT
40 AMPS EACH MOTOR (2)
36" X 86" X 56" 1170 LBS
5 Hp
A050V080-1230
A050V080-1230 FP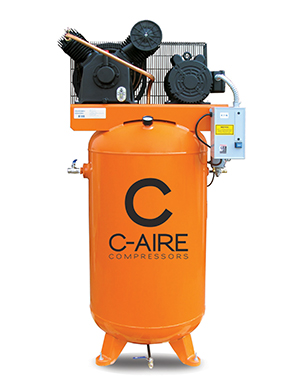 5HP 1 PHASE MOTOR
80 GALLON VERTICAL
2 STAGE CAST IRON PUMP
17 CFM 175 PSI
MAG STARTER
885 PUMP RPM
2 CYLINDER
OUTLET SIZE 1/2 NPT
22 AMPS (30 AMP BREAKER)
34" X 24" X 70" 515 LBS
7.5 Hp
A0750V080-1230
A0750V080-1230 FP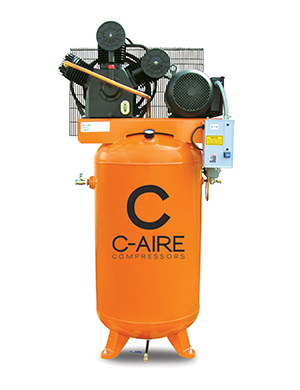 7.5HP 1 PHASE MOTOR
80 GALLON VERTICAL
2 STAGE CAST IRON PUMP
24 CFM 175 PSI
MAG STARTER
649 PUMP RPM
3 CYLINDER
OUTLET SIZE 1/2 NPT
33 AMPS (50 AMP BREAKER)
35" X 24" X 73" 555 LBS
EMAX Rotary Screw Air Compressor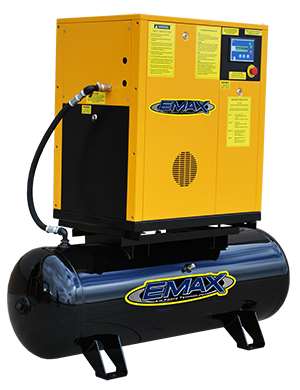 Fixed Speed
Variable Speed energy saving units
EMAX Refrigerated Dryer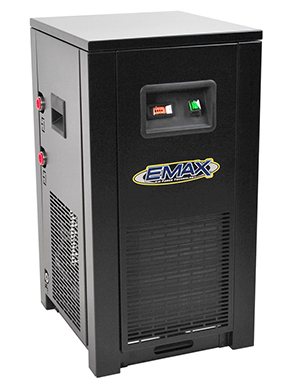 Get clean dry air for your piping system