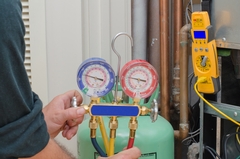 Air compressors are extremely useful for many different projects in various industries. But even if you own a top-of-the-line compressor, your unit might not come with some must-have accessories. Here's what you need if you don't have them already.
A Hose
Most compressed air distribution systems come with a hose. But if yours doesn't, or if the hose it came with isn't good enough, you should invest in a high-quality hose. There are two types of hoses that you can choose from. The first one is a recoil hose which comes with circular beds throughout the length to allow for easy storage. A retractable hose is the alternative choice and can be wound up like a vacuum cleaner cord. If you plan to purchase a new cord, you need to consider the length you're going to need for any possible projects.
Hose Reels
If you have a hose, you're going to need a hose reel. A hose reel will protect your hose from getting damaged during storage. Even if you have a recoil hose, you should still think about getting a reel for extra protection. You can find portable hose reels with handles and wheels, or choose one that has a backplate that can be attached to a wall.
A Filter
Do you want your air compressor to work as efficiently as possible? You can do that with the use of an air filter. While the filter is helpful, it's important to change it out every so often. After some time it can get clogged and put stress on the motor. Changing it out every few months or so will keep the odors, oil, water vapors, and dirt out of the motor.
Attachments
If you plan to use your compressor for many different jobs, purchasing a few attachments is a good idea. These attachments will be powered by the compressor itself. But it's important to match the max pressure of the compressor to the max pressure of the attachments you use. Some of the most common attachments include a nail gun, a blowgun, a drill, a sander, and a paint sprayer.
Approximately 70% of all manufacturers have a compressed air system, which can be used for a variety of important jobs. Clearly, air compressors are useful on their own. But they can be even more useful with the purchase of a few accessories.