Pipe
8 ft 6 in or 19 ft 8 in. pipe lengths available
Operating working pressure 190 psi @70°F
Temperature range 0°F to 140°F
Compatible with common compressor oils
Alloy 6063-T5
Seamless extruded to ASTM B241
Powder coat outside, clear anodize inside
For outside installation, cover or paint the nylon fittings to protect from direct sunlight (UV rays), pipe is ok
3/4" Fastpipe

Outside Diameter: 20mm
Outside Diameter: .79 in

1" Fastpipe

Outside Diameter: 25mm
Outside Diameter: .98 in.

1 1/2" Fastpipe

Outside Diameter: 40mm
Outside Diameter: 1.57 in.

2" Fastpipe

Outside Diameter: 50mm
Outside Diameter: 1.97 in.
Fittings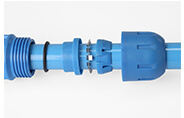 Compression style
Nylon with fiberglass reinforcement
Oring seal: Nitrile
Bite ring: Stainless steel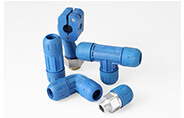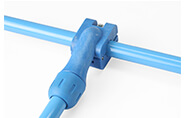 Future drops install in seconds with our saddle drops
Installation





Warranty
The Fastpipe compressed air system components are guaranteed against defects resulting from faulty workmanship or materials for a period of one year from the time of purchase. The company will replace, free of charge, any products which are found to be defective in workmanship or material, provided that the following conditions are met:
the company is promptly notified in writing of such defect immediately upon discovery, and the defective product is returned to the company for inspection
the defect is not due, without limitation, to faulty installation, misalignment of the product, vibration, ordinary wear and tear, corrosion, ultraviolet degradation, operation outside the products specified limits and using the product for uses other than its intended compressed air use.
The company will not allow claims for labor, materials and/or other expenses required to replace the defective product, or to repair any damage resulting from the use thereof. The company's liability is limited to the purchase price of the product.
It is agreed and understood that the company's liability in respect to the sale is strictly limited to the replacement of products as specified. The company shall not, in any event, be liable for any damages whether for loss of use, injury or death, business interruption or any claim for incidental, consequential, special or punitive damages
Warranty claims should be addressed to the customer service department of Engineered Specialties, LLC
Fastpipe Warranty PDF
Pipe
19 ft 8 in. pipe lengths available
Operation working pressure maximum 188 psi
Temperature range 14°F to 140°F
Aluminum alloy
Powder coat paint
2-1/2" ALR

Outside Diameter 63mm
Outside Diameter 2.48 in.

3" ALR

Outside Diameter 80mm
Outside Diameter 3.15 in.
Fittings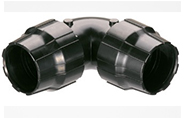 Compression style
Aluminum alloy
O-ring seal: Nitrile
Bite ring: Stainless steel